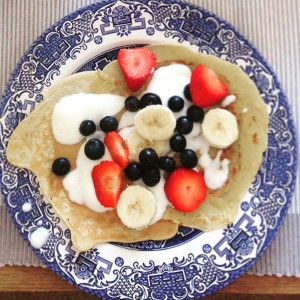 Lovely little Organic Pancakes
May 1, 2015 3:54 pm
This morning I felt like making breakfast extra special.
I think there is something so lovely about making an effort for ourselves, to set the table nicely and make a meal that is colourful and exciting, just as we would if we had a guest over.
So many of us don't give ourselves that same love and care that we give others…and we should!
Below is a recipe for the amazingly delicious Organic American Style Pancakes I made for my breakfast this morning.
Enjoy!
Ingredients
3 Large Organic Eggs
115 g Organic Plain Flour
150 ml Organic Milk
1 small teaspoon Bicarbonate of Soda
Method
Break the eggs into a large bowl and whisk.
Weigh out the flour and mix the bicarbonate of soda into the flour.
Add the flour, bicarb and milk to the eggs, and mix, using a hand whisk (or even a fork will do!)
Heat a frying pan on a medium heat, spraying a little olive oil into the pan (or coconut oil – whatever you like to cook with.)
Pour some of your pancake mix into the pan and fry for a couple of minutes until it starts to look golden. Loosen with a spatula and flip over. Continue to fry until both sides are golden.
Make the pancakes what ever size you fancy…
Serve with your chosen toppings (I chose fresh strawberries, blueberries and banana with Manuka honey and organic natural yogurt)
Enjoy!