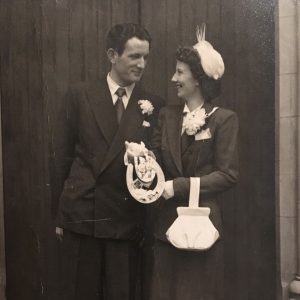 The Peaceful Passing ~ A post for my Grandad Jim
October 30, 2016 3:12 pm
If you are one of my regular readers, you may have noticed things have been a little quiet around here lately. It hasn't been a planned thing, but I have found myself taking a step back from writing to give myself some much needed time and space to heal and process things.
This year has been an especially challenging one health wise and that has meant that it has been more difficult to write. I've also had new diagnoses and a variety of different tests and appointments, so I've been trying to find my feet with things before I share more of my experience here.
A few weeks ago I was beginning to feel ready to write again and I had just started to note down some ideas for a blog post when suddenly Grandad began to get very unwell.
After three days with me, my sister Meg and my mum by his side, Grandad peacefully passed away on 1st October.
As I'm sure you can imagine, the weeks since his passing have been emotionally and physically exhausting, especially as it was only last year that we lost my Dad so it brought back emotions and memories from that time. But, as with everything challenging in this life, some valuable lessons have emerged from the pain and sadness.
Coming face to face with death isn't something that happens too often and I think generally speaking, in western society we often turn away from it. We try to pretend on some level that we are invincible or that life will somehow go on indefinitely. Yet when we do find ourselves experiencing the death of someone close to us, it can awaken us to so many things.
As my lovely Grandad lay there in his last few days, during the quiet moments where I sat by his bedside as he slept, I had so much time to reflect.  The fleeting fragile nature of life is never more apparent than when watching someone pass away.
Grandad was completely aware of what was happening to him right until the very end of his life. He couldn't really speak due to being so incredibly weak, but he was on no medication and was fully conscious inside his tired body. He knew death was close.
It was an incredibly humbling thing to witness and something that, according to the wonderful nurses who cared for him, was quite unusual. Many people nearing the end of life are either unconscious or on strong medication so are not lucid or present in the way Grandad was. For the most part, he was peaceful. The day before he died he even sighed with a unmistakable sense of relief and said the words 'no pain' and 'peaceful' to me. It was beautiful hearing those words come from his lips.
On the day before he passed, we managed to get my 93 year old Gran up to his room to see him. They have been married for over 60 years and their love has always been so clear for anyone to see. However, this last year my grans Alzheimer's has progressed to the point she no longer knows who anyone is.
We asked the nurses if it would be okay to take Gran in to see Grandad one last time, and they said it was totally up to my sister and I, but was a risk, due to her unpredictable behaviour.
We decided to take that risk and I'm so glad we did. Gran was unaware who Grandad was (although I like to think on some level her soul knew) but Grandad got such comfort from holding his Wife's familiar hand. Neither of them spoke, Grandad was too weak to even open his eyes, but simply being together was enough. It was a beautiful moment to witness at the same time of course as being incredibly emotional and sad. My sister and I quietly spoke reassuring words to them and allowed the minutes to unfold however they needed to.  There was such an air of peace and stillness in Grandads room that day.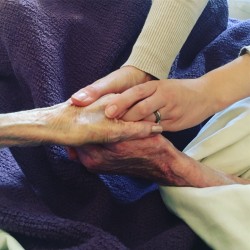 Holding Grandads warm hand, and praying with him in the last days of his life, was an honour. He was a Catholic, born and raised in Ireland and his faith had played a central part of his life, so much so that he visited church daily for many years. I sat with him and prayed a lot during those last few days, his frail hand holding his emerald green rosemary beads, getting so much comfort from his faith. Any moments he began to feel fear, we prayed, and you could visibly see the fear dissolve.
It reinforced to me how important faith is. Whether it's faith in God. Or in something else. Even just faith and trust in life itself.
I know for me personally, my own faith in there being something bigger out there, in trusting that life is unfolding exactly as it should and that we are all connected to one another on a deeper level, has helped me get through my toughest times. I feel like my own faith and spirituality has literally kept me alive during the most difficult times of my life, as dramatic as that may sound.
---
On the evening of 30 September after spending most of the day sat at Grandad's bedside, I said goodbye to him and came home. I didn't want to, but Mum and Meg (my sister) strongly encouraged me to. After three incredibly emotional days, plus physically doing more than I usually would I was beyond exhausted.
My body was pretty much screaming at me and I was struggling to keep upright. I felt such a strong desire to stay next to Grandad and it was during this time I had to try and put the frustration towards my body and physical limitations stopping me doing what I felt I needed to, and try and be grateful for the fact I'd been able to spend the time I had with Grandad. I was only slowly getting used to being out of the house again for short periods of time after a year of being really unwell and mainly housebound. But somehow, my body had carried me through the previous days and enabled me to do what I needed to.
A family friend collected me from the Nursing home and drove me back to my own house. I had a shower and climbed into bed, yet I couldn't sleep though despite the deep fatigue.
After laying there in the dark for a few hours, my eyes closed, I felt the strangest sensation shudder through my body. Like a strong external force. I can't really describe it with words. I reached for my phone straight after it happened and the time stuck in my mind 00:56.
I got a phone call ten minutes later to say Grandad had died peacefully in my sisters arms at 00:56 hrs.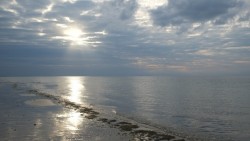 As with all experiences such as this, it makes you think about life more deeply. What is important, and what isn't. It always comes back to the same things – Love, family, friends and the little things in our life that can so easily be taken for granted. The importance of living each moment as fully as possible in whatever way we can personally.
---
The service we had to say goodbye to Grandad was beautiful and as we laid him to rest afterwards the Autumn sun shone through the tree that shelters his burial plot. 
The weeks since Grandad passed away have been incredibly tiring and I've had to push my body a lot harder than I have in a long time. After the funeral I had quite a severe crash, but am slowly recuperating and taking my time to do all I can to nourish and support my body as it heals. I am looking forward to getting back to writing regular blog posts very soon. 
Emma x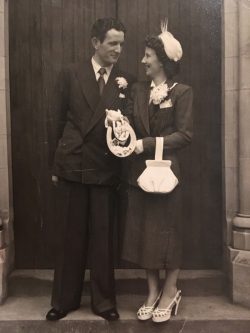 My lovely Granny Josie and Grandad Jim on their wedding day