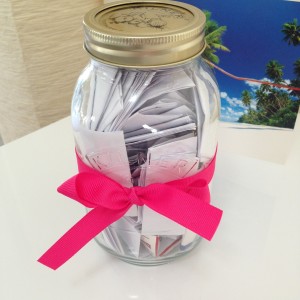 Why Everyone Should Start a Gratitude Jar
January 1, 2016 6:00 pm
One of the nicest things I did for myself during this last year, had been starting a Gratitude Jar.
On the 1st of January, I got a jar, and tied a pretty pink bow around it and placed the jar on my desk where I would see it each day.
From that day forwards, each time I had a happy moment, reached a milestone, or created a new joyful memory, I wrote it on a piece of paper, along with the date.  Then, I would fold up the paper, and pop it into the jar.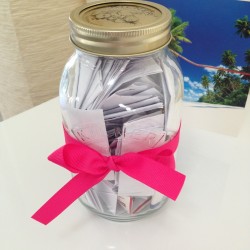 As the weeks and months passed by, the jar gradually filled and as I sit here now, one year later, the jar is full to the brim.
So full.
Full of love. Of hope. Of memories. Of gratitude.
---
Below, are some of the things I have gotten out of having a Gratitude Jar throughout 2015.
It has made me stop and appreciate things. When a moment has happened that I have wanted to pop in the gratitude jar (and more often than not it has been a small thing, such as having had a peaceful yoga practise that morning, or enjoying a phone conversation with a friend), in that moment where I decide to get out my notepad and write down a few words before popping it in the jar, I've felt grateful. I've smiled. It's made me connect to myself and the blessings I have that little bit deeper that I might have done otherwise.
It's made me realise that life is all about the simple things. The contents of the jar are things such as my nephew saying my name for the first time. Appreciating kind gesture from a friend. Enjoying a sunny day. These are the things in life that matter and having my gratitude jar this year has made me realise this.
On bad days, when I've not been in a good place, and especially on 'bad M.E. days' seeing my gratitude jar sat there containing its beautiful notes, has made me smile. It's grounded me. It's made me realise that challenging as things may be in that moment, life has wonderful moments too. Many of them.
It's felt like a little ritual every time I have written a note. Knowing it's for myself, from myself. This has connected me further on my journey to self compassion and showing myself love and kindness.
A gratitude jar is a simple thing you can do for yourself, but one that should you choose to start one yourself, can bring you so much joy. It also is a wonderful thing to do to rise your vibration and help bring even more joy into your life and your heart.
I'd love to hear your thoughts on whether you plan to start a gratitude jar, or your own experiences if have you done one before 🙂
With love,
Emma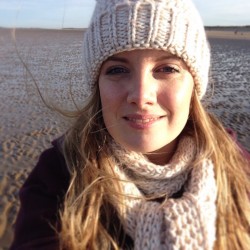 ***If you would like to sign up to receive my latest blog posts direct to your inbox, just pop your email address in the Subscription box 🙂 I am planning a little more structure for 2016, perhaps a fortnightly newsletter instead, but I shall keep you updated with this 
Tags:
autoimmune
,
cfs me
,
gratitude
,
gratitude jar
,
happy times
,
healing journey
,
joyful moments
,
memories
,
milestones
,
new year
,
recovery path
,
self-love
,
thankful
Categorised in: Healing resources, Insightful inspirations, This week I'm really loving...