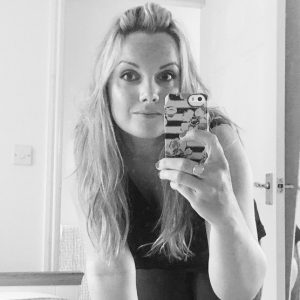 How much should we share on Social Media?
May 31, 2017 7:47 am
This is something that I'm sure many of you will have thought about at some point. How much should we actually share on social media? Should we share the good stuff? The bad days? The bits in between? How much should we filter?
My friend Carly and I were chatting about this exact topic today after I posted something on Instagram this morning that triggered a few different thoughts for me.  I thought I'd open up the conversation here and chat about it a bit more as I have a feeling some of you will relate to my experience and I'd be interested to hear your thoughts and own perspectives too.
Last night, I went to see one of my favourite bands and this morning, I posted some videos and a couple of photos on my personal  Instagram account from my evening. To most people, this wouldn't really be a big deal, certainly not something that would be given much thought. However, when you have an illness that fluctuates like crazy, and you post a photo/video of yourself having a lovely time and looking fairly well it can lead to you having a few thoughts swirling round your head wondering what other people might think, it certainly did for me this morning.
There is so much misunderstanding around ME/CFS (which I've written about before here and here) and being totally honest? I can understand why. The bad days, and weeks and months, are so hidden, and what people generally see are the better times. The good days.
People are affected so differently by this illness, some bedridden, some mildly affected and some on an upward curve towards recovery. Some people have times where they fluctuate. I've been at all sorts of levels over the seventeen years I have lived with ME/CFS, but am currently fluctuating quite a lot. I'm grateful for this, despite the feeling of uncertainty that comes alongside it, as I know how awful it is to feel like things aren't shifting at all. I've been in that place many times and it's a really tough place to navigate through.
What comes with the current fluctuation stage I seem to be in, is that I can go from being barely able to open my eyes or sit up and in severe discomfort (last week in a crash) to being able to go to a gig (last night) in a short space of time. I understand why this happens, because I understand whats going on on a biochemical cellular level, but many people who don't understand the physiology of ME/CFS could be quite confused at how such vast fluctuations can happen.
The issue with social media is that it doesn't show the full picture. Take my photos of the gig for example, they show a smiley face and a lovely evening, but they don't show the challenging weeks before. Or the hours spent in bed resting on the day of the concert. Or the payback that may come after. Which can all lead to confusion and people thinking 'but you seemed fine on that photo?!' when I explain I have to pace myself so can't meet up for that coffee this week, or that I've crashed back down yet again and am back being unable to leave the house.
I am so lucky in that my friends are incredibly supportive and know me and my situation well, but it doesn't mean I don't sometimes feel a bit…how do I even put it? Like I have to explain myself I guess, when they message asking if we can make plans after they may have seen a social media post of me looking much better and I reply saying I'm actually not up to making plans. It's such a confusing thing to live with and can actually feel a bit embarrassing at times if I am totally honest.
My own personal Instagram feed shows predominantly good days and happy times and pretty things, yet this doesn't feel like a true representation of the bigger part of my life at all. But does that mean I want to start posting photos of my poorly days? No, I don't actually. But the consequence of this, is that Instagram really does become a highlight reel. 
I think this is the case for many people isn't it? The highlight reel thing. Social media never gives the full story of someones life and I think this is something we should all remember for many reasons.
Most of the time I like my Instagram feed looking all cheerful and lovely, it's kind of like a photo album really isn't it? You wouldn't put a depressing photo in a photo album. This is how I choose to use my personal Instagram account. The Consciously Healthy account shares more of my healing journey, but I still like to choose pretty photos. As for Facebook – I don't really use that platform as much these days, it feels a bit messy and energy draining, but when I do use it, I guess I post a mix of things. It's funny how the various branches of social Media have a different feel to them isn't it?
In terms of the ME/CFS/invisible illness thing, I guess whats important is that we do our best to let go of what other people might think and focus first and foremost on our own health and happiness, enjoying what we can and making sure we soak up those good moments when they come along.
Carly and I decided at the end of our chat, that actually, other peoples opinions aren't ours to carry around, that we choose to let go of worrying about it as much as we can. No one will every fully understand unless they are extremely close to us – and thats okay. Our friendship is great in this respect as we both totally get where each other are at and can have these lovely soulful chats that allow any worries and thoughts like this very topic to be expressed.
The question still remains, how much is good to share on social media? Do we post photos of the absolutely awful horrendous days to raise awareness and give a clear picture? Do we not share our good days at all, because of the misconceptions?
My thoughts on this at the moment, are that everyone is different. As long as we are sharing what feels true to us and right for us, then thats what matters.
I also think, when it comes to the good days, it would be such a shame to not share them when they come along. It's nice for people to see them, and its nice for us to look back and see them too isn't it.
Emma x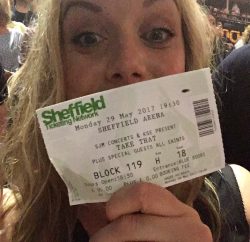 P.S Take That were amazing and I had a great time. So, so soooo grateful for moments like these when they come along 🙂