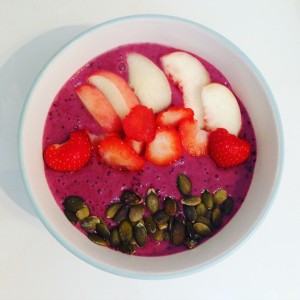 Very Berry Smoothie Bowl Recipe
September 9, 2015 6:19 pm
This is just the loveliest recipe! Perfect for breakfast or a healthy snack. The Smoothie Bowl.
So you're going to need a blender, and the following ingredients, but once you have those things, this is actually very easy to make.
For so long I didn't actually have a food processor/blender and now I don't know what I did without it! If you are on a consciously healthy eating journey, it's a great investment.  There are so many beautifully easy recipes that can be made using them, this being one of them….
Very Berry Smoothie Bowl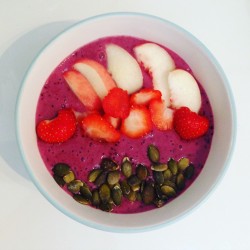 Ingredients
1 Frozen Banana
Handful of Blueberries
Handful of Strawberries
Handful of Blackberries (loads in the UK at the moment!)
Half a Peach
Dash of Coconut Water
Dash of Organic Natural Yogurt
Pumpkin Seeds
Method 
Pop your ingredients (except from the pumpkin seeds) into the blender, and whizz up!
Pour into a bowl
Decorate with seeds and any fruit you wish to pop on top
Enjoy!
Note : Freezing the banana gives this smoothie bowl a fab texture and cools the temperature.  Simply break a banana into four and pop in a freezer bag and into the freezer.
Also, bear in mind, this recipe can be adjusted! Get creative. Use whatever you fancy in your smoothie bowl. If you are dairy free? Leave out the yoghurt entirely or substitute with a dairy free version. Perhaps you don't have coconut water? Add a little more yoghurt instead. See what works for you 🙂
Emma x
*All Photos My Own
*Do pop your email address in the subscription box if you would like to be kept up to date with latest posts.