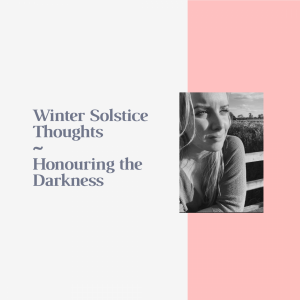 Winter Solstice Thoughts
December 22, 2019 8:05 pm
Honouring the Darkness
We hear so much about 'thinking positively' and as any of you who know me will agree, so much of what I share here is generally quite positive. Visualising positive outcomes, thinking lovely thoughts and making the best out of each day plays a huge part in how I approach life.
But what we often don't hear about, is the importance of making space for other more 'not so comfy' feelings to arise too. The darker stuff.
Two nights ago, when these words came to me, I actually ended up in tears on my sofa. Everything felt overwhelming. My symptoms were high and I'd had to cancel yet another plan. The Christmas week ahead felt daunting and above all else? I felt tired of everything living with a chronic health condition entails. It was a moment where I just felt a bit like it was all too much.
The end of 2019,  also marks 20 years since my initial diagnoses and 10 years since my relapse where the life I had rebuilt after my first years unwell, fell down around me in ways I could never have imagined. Milestones like these are always difficult aren't they, no matter how much we aim to look forward, the reality can still evoke feelings within.
So, two nights ago, the tears came. Tears of grief. Sadness. Pain. And I let it. I sat with it. I didn't turn away. I so often do my best to turn to the lighter feelings, but on this winters evening, I acknowledged the sobering reality of how this debilitating condition has restricted me in so many different ways. How it has stopped me freely doing so many of the things I yearn to do, dance, travel, start a family, work. And perhaps most deeply missed? Yearned for? To wake up each day in a body that feels okay. To be free of the intense fatigue that clings to my days. To participate in life, without constant discomfort or the ever present risk of payback.
Amidst the tears, it dawned on me how things have shifted from how I used to be. Over the years I have become so skilled at tuning into gratitude, at dusting myself off and at making the best of things that sometimes, the other stuff has ended up getting pushed aside. This is my strength, but at times, has also been my hidden weakness.
I spent many years of my younger adult life feeling I should always be positive and upbeat, which lead to a real disconnect between my body and mind (and ultimately, paved the way for chronic illness to develop.) I realise now more than ever, that we need to allow space for darkness too. For the feelings that many of us are taught to see as bad or weak, when in fact, they are an inherent part of being human.
It is so important we allow ourselves to gently feel these emotions. To realise that sometimes it can actually be healthy to let go of the pressure to 'think positively' (I actually really dislike that expression) and instead allow ourselves to say 'things feel really shitty right now, I'm struggling and today I'm finding this situation hard'.
During the years whilst I have lived with ME/CFS and other related conditions, I have learned lessons that I will be forever grateful for. This illness has changed me for the better. There is no doubt about that.
However, during times like the other night where I feel raw emotion surfacing, I now try to honour and allow space for these feelings to be there. Knowing that a great healing can come from truly feeling and simply allowing ourselves to be human.
One of my biggest lessons this year, without a doubt, is realising the healing power that lays within the present moment.
By that, I simply mean, being fully present to what is. The light AND the dark. Coming down out of our minds and into our hearts. Feeling what needs to be felt. Expressing raw emotions that surface.
Releasing.
Knowing that life is always shifting and changing and no amount of forcing or resistance will change where we are at in this moment. But reminding ourselves that feeling and expressing allows energy to shift and move and eventually, release. Then, when it feels right, we can turn our face back to the light.
Focusing on what is around us and within us right now, with self compassion and softness, is all we really need to do. The rest will unfold.
This is my biggest lesson of 2019. Embodying this work.
Emma x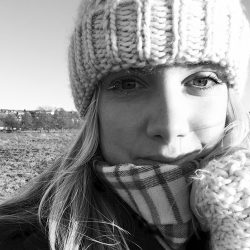 ---
---
Would you like to be the first to hear about brand new Consciously Healthy blog posts? 
If you would enjoy having new posts sent directly to you, just pop your email address into the subscription box ~ you'll find it either below this message or in the sidebar depending what device you are using.  
New blog posts are sent out every couple of weeks or so and it goes without saying, your email address won't be shared with any other parties.
I'd love to have you as part of the Consciously Healthy Tribe!
Important note to new subscribers
Make sure you look our for your welcome email. Some people find it sneaks into their junk folder, so just keep an eye out and mark Consciously Healthy as a safe contact if this happens so you can continue to receive future posts to your inbox. 
---
Disclaimer: This Website and all the information which it contains is based on my own personal experience and health journey which I am sharing for educational and informational purposes only. Please consult your own doctor or healthcare provider to determine the best course of treatment for you.
Tags:
acceptance
,
authenticity
,
cfs
,
christmas
,
insights
,
invisible illness
,
life lessons
,
me cfs
,
self-love
,
surrender
,
winter solstice
,
wisdom
Categorised in: Emma's Journey, Insightful inspirations, ME/CFS