Yoga Love – My Interview with Nichola Veitch
June 18, 2017 11:16 am
Earlier this year I appeared over on Nichola Veitch's website as part of the Yoga Love series. As some of you may know, Yoga has played a fundamental part in my healing journey for many years and is one of the things that I find really helps bring me back into my body.
Yoga is a wonderful way to calm the system down, especially during times when life feels a little uncertain. It's something that I would recommend any of you who are feeling a little disconnected from your body have a look in to if you haven't already.
Yoga has helped me so much in terms of learning to be present with whatever is going on in my body from day to day, when stressed or unwell, so many of us disconnect from our bodies don't we. We try to escape into other things, but actually, in order to begin to heal, its so important we learn how to be present with whatever is going on for us in each moment.
I have a daily home practise (although soon I am hoping to be soon be well enough to add in a gentle weekly class too) but Yoga doesn't always have to mean adventurous asana postures as many people would believe.
Usually for me, Yoga is a gentle restorative practise, one that helps me heal and gently connect back to myself and my body. Some days (especially on the really low energy days) this may simply mean rolling out my mat and doing some slow, deep, healing breaths.
Ive linked in my interview with Nichola below, for any of you who might want to read a bit more about Yoga and my own experience with it. Nichola also has some fabulous Yoga and Meditation related stuff over on her blog, so do enjoy having a look around there too!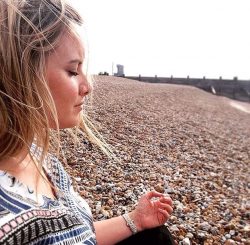 With love, 
Emma 
---
*** If you would like to receive new blog posts straight to your inbox, just pop your email address into the subscription box (either below this message or in the sidebar depending what device you are using).  New blog posts are sent out every couple of weeks or so.
I'd love to have you as part of the Consciously Healthy Tribe!
Note to new subscribers – make sure you look our for your welcome email. Some people find it sneaks into their junk folder, so just keep an eye out and mark Consciously Healthy as a safe contact if this happens so you can continue to receive future posts to your inbox.