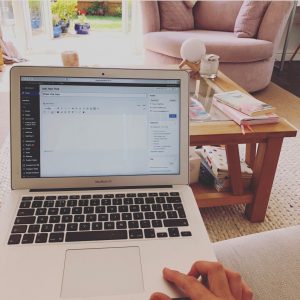 The Dance Between Light and Dark ~ Summer 2018
July 14, 2018 10:30 am
I decided to sit down and write this week. As much as sometimes I resist opening up my laptop and letting the words flow, I knew it was time, its been far too long…
I've done regular posts over on Instagram in recent months (you can find me here) but I haven't shared much in this beautiful blog space lately.
So I wanted to check in and say hi. How are you are doing? Do let me know in the comments, I'd love to hear from you…
Things have been up and down with me so far this year, as is the case for so many of us with Chronic Illness I think? There have been wonderful moments. Days where I've felt clarity, connection and joy. Moments where the deep fatigue has lifted just enough for me to get out in the world and live a little.
I visited family in Ireland back in early May, which was wonderful. Connecting with my late Dad's side of the family and seeing the beautiful green countryside in which I spent such happy times during my childhood felt healing and so very precious. Being well enough to actually make this trip filled me with so much gratitude that at times I couldn't stop smiling.
This year I've also welcomed my beautiful baby niece into the world, Josephine. Watching her settle into life and bond with her big brother and the rest of our family has brought so much joy to us all. She's just a lovely little soul.
Recent months have also seen me enter into a new relationship. With a man who's patience, huge heart and grounded presence have touched me in ways I could never have imagined. Less than a year ago, I had in my mind that it was going to be impossible to have a romantic relationship until I was at a certain level health wise. The idea of this saddened me and really accentuated the isolation and feelings of powerlessness that can come alongside life with a chronic illness. We miss out on so much. Missing out on love and connection in addition to everything else is painful, especially when it feels like it's a direct result of being unwell.
One of the main things I needed to learn before I could even be open to the possibility of a relationship, is that we are all worthy of love, whatever level of health we are at.
It sounds obvious when you read it simplified into one sentence like that perhaps, but for me, I had a deeply rooted limiting belief around this that was blocking things for me in ways I didn't even realise. It wasn't until I learned to truly love and accept myself, that I could begin to open to letting anyone else into my world. I've got a lot to say on this topic, its been a huge source of learning and emotional growth for me, I'm sure I'll write more on it in the coming months.
As you can see, some wonderful things have happened so far this year. But there have also been challenges too. The year started off with a really bad patch physically. I fell down the stairs and broke my foot, then soon after came down with the flu and strep throat which ended up needing a strong course of antibiotics. The effect of the fall/foot break plus the flu and infection pretty much wiped out all of January and February. I slowly began to regain some strength during March, and by April I was beginning to feel much better. That sense of renewed hope after a setback is wonderful isn't it? There's nothing quite like it and this is how I felt after the dark winter months began to lift. However, since then, it's been up and down once again. For example this last two weeks have seen me back to being housebound with another throat infection very similar to the one I had in January, leaving me with no option but to rest, sleep and do my best to surrender.
I've had a lot of  different hospital appointments and tests and also received a new diagnoses this year, which has caused some additional worry. But without a doubt, the main challenge continues to be, the day to day effects of living inside a body that feels continuous discomfort and fatigue. 
I feel like I have got such a yearning to be out in the world. There is so much I'd love to do, but life remains very restricted the majority of the time due to the severity of various symptoms. Even the smallest of things can be difficult. I'd love to write more regularly for example, but the reality is that I'm either too unwell to use the screen, or if I am enjoying a better spell of health, then I make the most of having a little bit of time out in the world which always means having lots of rest in between my activities. It is always such a balancing act. I would love to be able to build some structure and routine into my weeks, but the fluctuations in my health from day to day have made this extremely difficult up until now.
One of the things that takes the most inner strength I think, is dusting yourself off each day, and carrying on with hope. Staying focused on the blessings in your life and reminding yourself that it is possible to heal.
The relentless nature of chronic illness, the profound effect it has on your life and the focus it takes to keep hopeful, and moving forwards doesn't ever get any easier. It tests you to the core and you end up building a resilience that would never have come about without this kind of deeply challenging experience. 
I'm sharing this with you, as I think its so important to be honest about the ongoing struggle that comes with all of this. It would be inauthentic for me to say I live my life in a zen like state, constantly surrendering and accepting with absolute ease. When in reality, although of course I aim to live that way, each day brings about its own challenges that sometimes bring me to tears regardless. It's part of being human.
I discovered the work of Dr Kim D'Eramo over on Facebook/Youtube earlier this year. The wisdom and insight she shares has really helped me in terms of coping emotionally with all of this and helping to anchor me back to myself and my inner strength. Kim healed autoimmune disease herself a number of years ago. She teaches how the fight against our emotions and bodily symptoms can keep us stuck in a state of resistance, as can the search to 'heal and cure' ourselves by external means. It's powerful stuff and I personally have had some amazing inner shifts in recent months after watching some of her videos.
Go check out her work if you feel it may resonate with you too… Kim D'Eramo
As we enter the second part of this year, my main aim, is to find peace within each day. To continue nurturing my body and mind. Being kind to myself. Physically supporting my body in all the ways I know how, including good nutrition, gentle restorative yoga and meditation. Spending time in nature with my feet on the grass when I can. As well as practising gratitude and enjoying all the wonderful things I do have in my life.
Although I have my ongoing challenges and setbacks, I try to remind myself not to forget how far I have come too. There have been times in the not too distant past, where I couldn't sit up to eat. Where I couldn't bathe myself. Where standing outside was impossible. Where I remember wishing with all my heart that I could lay still in bed and just feel a sense of inner peace as opposed to raging anxiety. So much has improved… it can be easy to forget and just see what discomfort remains can't it. Being human means that we will always strive for the next stage. It's what keeps us moving forward I guess.
In our humanness, it's also important to feel the pain. To let it come up and be released and expressed rather than pushing it down. It's okay to have days where we struggle to be grateful. Where we are simply fed up. Where we need to allow ourselves to have a good cry. One of the most powerful lessons for me to date, is learning to let go of the pressure I can so easily put on myself to be any certain way. This can be healing in itself…
Life is a dance between the Light and Dark. In accepting this, we can gently learn to move through each phase with a sense of neutrality and peace rather than clinging to what 'should be'.

Sending all of you who may be reading this lots of love, 
Emma x 
You can also connect with me on Facebook and Instagram
---
Would you like to be the first to hear about brand new Consciously Healthy blog posts? 
If you would enjoy having new posts sent directly to you, just pop your email address into the subscription box (you'll find it either below this message or in the sidebar depending what device you are using).  New blog posts are sent out every couple of weeks or so and it goes without saying, your email address won't be shared with any other parties.
I'd love to have you as part of the Consciously Healthy Tribe!
Important note to new subscribers…
Make sure you look our for your welcome email. Some people find it sneaks into their junk folder, so just keep an eye out and mark Consciously Healthy as a safe contact if this happens so you can continue to receive future posts to your inbox. 
---
Disclaimer: This Website and all the information which it contains is based on my own personal experience and health journey which I am sharing for educational and informational purposes only. Please consult your own doctor or healthcare provider to determine the best course of treatment for you.