A Story of Hope
January 5, 2020 11:13 am
This is a story of hope. In these words I'm going to share with you something beautiful that happened this week, along with reflections on a time of my life that challenged me in ways I couldn't have imagined possible. I hope the essence of this story touches your heart and helps to comfort you if you are in a difficult period of your life right now. I also hope it helps you to recognise your progress on your own journey, no matter how seemingly small.  Never forget that everyone's healing begins somewhere.
The Story 
Ten years ago I was unknowingly about to enter a period of my life that I could never have prepared myself for. For a long time, my days were spent bedridden, unable to sit up or tolerate light/sound. I existed inside a body wracked with fear and the most extreme discomfort.
Words aren't enough to begin to describe what happened during that time of my life physically or emotionally. All I know is, I felt physically so close to death and so deeply afraid.
During those years, comfort came from my amazing family. Although I couldn't really engage in conversation, they would lay next to me. Hold me. Be present. My sister used to do gentle visualisations with me. She would talk of when I was well enough to visit her in London. In the story we would go to the shop, and buy things for a picnic. Gently and quietly she would list the things we'd put in our basket and go on to describe where we would sit on Hampstead Health enjoying a Picnic on a Summers Day.
As I lay with my eyes closed, her words gave me a glimmer of beautiful distraction at a time when I couldn't watch tv or read. It was so lovely to see these things in my minds eye, yet to imagine them ever actually happening in real life felt so unattainable. I couldn't see how it would ever be possible to go from where I was, unable to even wash or brush my own hair, or hold my own body up, to being out in the world again.
Ten Years Later – January 2020.
Earlier this week I went with my Sister and Mum to see a Ballet called "The Red Shoes' by incredible Choreographer Sir Matthew Bourne in London. I have dreamed of seeing a Matthew Bourne Ballet for so many years but until now, I haven't been well enough. Yesterday, it actually happened and it was so beautiful. It moved me, in different ways and for so many different reasons. Being taken on a journey by the heartfelt story of the Ballet and witnessing the deep expression of the Dancers. The awareness of something that was impossible for so long, finally happening. The blessing of my Mum and Sister sat either side of me. The echoes from my own past stirring awake inside me, along with a little sadness too (dance used to be a huge part of my life before I became unwell with ME/CFS).
Keeping it completely real here, I'll let you know that as lovely as it all was, it wasn't without an element of struggle alongside the magic. In fact the day before the Ballet, I was sat beside my Boyfriend on the sofa with tears in my eyes as I told him there was absolutely no way I was going to be able to go. Christmas Payback had well and truly hit. Fatigue and other symptoms were at that level where it felt so deep in my bones and brain, I just couldn't see how a journey to London, followed by sitting upright for two hours, was going to be even remotely possible.
However, with a deep sleep, powerful prayer, plus plenty of soul fuel it somehow happened. I made sure I rested as much as I could on the journey there and back, with my eyes closed and gentle healing music playing through my headphones. This helped keep me in a calm state and prepared me for the Ballet itself and the London Train Station. I have found that this kind of preparation can make a big difference if we really want to do something and are at a level where we can just about manage it. It's like a little support toolkit.
So, I saw my Ballet. I feel like it was a beautiful milestone and something that has stirred awake a part of myself that has been in hibernation for a long time. My own desire to dance still lives within me, the ultimate dream is to be strong enough to bring this back into my life again.
During the last ten years SO many changes have taken place. Growth. Learning. Healing. Ups and Downs. Setbacks. Tears. Progress. Milestones. So much.
I am not recovered, but I am on the path. Life has changed and continues to change. I am learning and continue to learn.
From this place, I can see how I have moved forwards. How life is different now. A world away from where it was in fact.
When I was watching the Ballet this week, I couldn't help but remember the days of my Sister doing those visualisations in bed with me. Now I was sat by her side in Sadler's Wells Theatre watching my beloved Dance.
This is a Story of Hope.
Love, 
Emma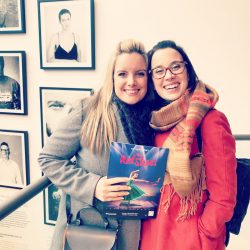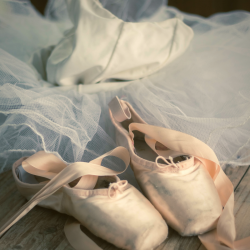 ---
---
Would you like to be the first to hear about brand new Consciously Healthy blog posts? 
If you would enjoy having new posts sent directly to you, just pop your email address into the subscription box ~ you'll find it either below this message or in the sidebar depending what device you are using.  
New blog posts are sent out every couple of weeks or so and it goes without saying, your email address won't be shared with any other parties.
I'd love to have you as part of the Consciously Healthy Tribe!
Important note to new subscribers
Make sure you look our for your welcome email. Some people find it sneaks into their junk folder, so just keep an eye out and mark Consciously Healthy as a safe contact if this happens so you can continue to receive future posts to your inbox. 
---
Disclaimer: This Website and all the information which it contains is based on my own personal experience and health journey which I am sharing for educational and informational purposes only. Please consult your own doctor or healthcare provider to determine the best course of treatment for you.
Tags:
ballet
,
cfs
,
dreams
,
faith
,
family
,
healing journey
,
hope
,
hopes
,
ME/CFS
,
milestones
Categorised in: Emma's Journey, Insightful inspirations, ME/CFS