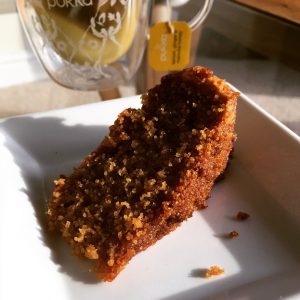 Gluten Free Lemon Polenta Cake Recipe
March 20, 2018 9:18 am
Ive had a few requests to share this recipe on the blog after posting photos of it on my Instagram account a little while ago.
I wanted to find a healthy refined sugar free alternative for a classic lemon Polenta cake. By tweaking some recipes I found online and adding my own twist, I eventually came up with this yummy recipe and can safely say it creates such a gorgeous cake.
Gluten free, refined sugar free and relatively easy to make, it keeps well in a tin for a good few days, but can also be frozen in individual slices and be taken out as and when you fancy a piece of cake.
A perfect zesty lemony treat that goes so well with a warming cup of lemon and ginger tea.
Hope you enjoy it as much as I do…
Emma x
Lemon Polenta Cake  
(Gluten Free / Refined Sugar Free)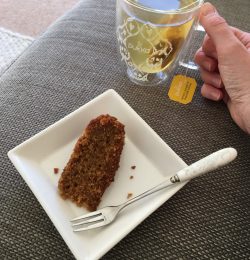 Recipe
FOR THE CAKE
200 grams of soft unsalted butter
100g of coconut sugar
100 grams of polenta
150 grams of ground almonds
50g gluten free flour
1/2 tsp bicarbonate of soda
1 Tsp Vanilla Extract
3 large eggs
zest of 2 lemons (save juice for syrup)
FOR THE SYRUP
4 Tbsp of coconut sugar
juice of 2 lemons
Dash of maple syrup
Method 
Cake
Grease the sides of a 23cm / 9inch springform cake tin lightly with butter. Then line with some baking parchment. (the butter will help the parchment stick nicely)
Preheat the oven to 180°C/gas mark 4
Next, beat the butter and coconut sugar until well mixed and soft in texture. You can do this with a wooden spoon or a free standing mixer. (I use an electric mixer to save energy and find it gives a better more 'whipped' result)
Add 1 tsp Vanilla Extract to the butter and coconut sugar mixture.
Then, in a separate bowl, mix together the almonds, flour, polenta and bicarb of soda.
Beat some of the dry mixture, into the butter-coconut sugar mixture, followed by 1 egg.
Then alternate adding the dry ingredients, followed by an egg, mixing/beating the whole time.
Finally, beat in the lemon zest to your cake mixture and spoon the mixture into your prepared tin.
Bake in the oven for about 40 minutes.
After 40 mins, to test if the cake is cooked, a skewer/cake tester/thin knife should come out cleanish.
Remove your cake from the oven to a wire cooling rack, but leave in its tin to cool.
Syrup
Make the syrup by heating the Lemon Juice, Coconut Sugar and dash of Maple Syrup together in a saucepan over a low heat.
When the coconut sugar has dissolved into the lemon juice, your syrup is ready!
Finally, prick the top of the cake all over with a thin cake tester/or thin knife and pour the warm syrup over the cake.
Leave the cake to cool before finally taking it out of its tin.
Enjoy!!!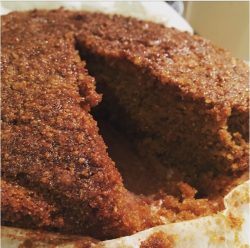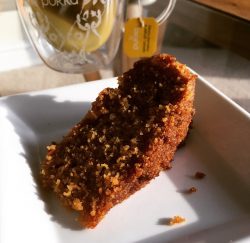 If you decide to try this recipe, I'd love you to pop back in and let me know what you think in the comments section. 
You can also connect with me on Facebook and Instagram. 
---
Want to be the first to hear about brand new Consciously Healthy blog posts? 
If you would like to have new posts sent directly to you, just pop your email address into the subscription box (you'll find it either below this message or in the sidebar depending what device you are using).  New blog posts are sent out every couple of weeks or so and it goes without saying, your email address won't be shared with any other parties.
I'd love to have you as part of the Consciously Healthy Tribe!
Important note to new subscribers
– Make sure you look our for your welcome email. Some people find it sneaks into their junk folder, so just keep an eye out and mark Consciously Healthy as a safe contact if this happens so you can continue to receive future posts to your inbox. 
---
Disclaimer: This Website and all the information which it contains is based on my own personal experience and health journey which I am sharing for educational and informational purposes only. Please consult your own doctor or healthcare provider to determine the best course of treatment for you.
Tags:
celiac
,
gluten free
,
gluten free recipes
,
healing
,
healthy recipes
,
healthy treats
,
lemon polenta cake
,
lifestyle
,
nutrition
,
recipes
,
sugar free
,
tea and cake
,
wellbeing
Categorised in: Recipes, This week I'm really loving...