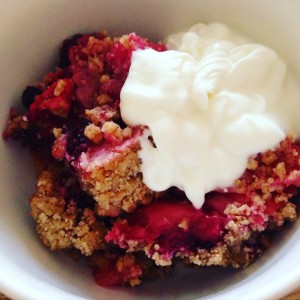 Red Berry and Apple Crumble Recipe (Gluten Free, Sugar Free)
November 19, 2015 5:36 pm
One of my favourite winter puddings is a homemade fruit crumble. So comforting and cosy and perfect served in a warm snuggly house on a cold day.
This recipe is a healthier version of the classic fruit crumble, completely sugar free apart from the naturally occurring sugars in the fruits. Its a wonderful healthy alternative to the sugary version and still tastes just as lovely.
Sugar is one of the worst things we can put into our bodies when trying to heal the adrenal glands and hormonal system, due to the havoc is plays with blood sugar and hormone levels, so I have decided to go mainly sugar free for the foreseeable future. I am allowing myself fruit and the very occasional treat, but other than that, my diet is a sugar free zone!
Sugar is classed as negative nutrition, as in, it doesn't nutritionally benefit the body in any way. When we are healing, the last thing our body needs is any extra strain on it and sugar is a strain on the body.
The trouble is, I love puddings and treats and desserts! So, I've had to find some yummy replacements to make sure I stay on track.
Madeleine Shaw's book, 'Get the Glow' has some amazing healthy treats and desserts (click here to have a read more about my journey so far with that book) but the recipe I'm about to share, is a twist on one of my Mum's recipes.
We grew up having lots of Crumbles in our family!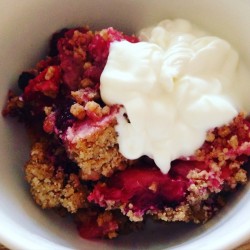 Red Berry and Apple Crumble
Ingredients 
2 Large Cooking Apples
4 – 5  Tbsp of frozen mixed Berries
1/2 tsp Cinnamon
1 tsp mixed spice
4oz Hard Butter
60z Gluten Free Flour
2oz Ground Gluten Free Oats
Method
Pre heat the oven to around 180*
Peel and slice your apples and place in an oven proof dish
Add the frozen mixed berries to the dish
Add around 3 tbsp of hot water to the fruit (this will stop it drying out)
Sprinkle a pinch of cinnamon over the top of your fruit
Put the oven dish to one side for the time being


---

Measure out 6oz of Flour, 2oz ground oats (ground them in food processor) and 4oz of Butter
Chop the Butter into small ish pieces
In a large mixing bowl, crumble together (by hand) the flour, oats and the butter until you have a 'crumbly' consistency
Add 1/2tsp of cinnamon and 1 tsp of mixed spice
(note – if the mixture seems to dry, add a little more butter, if it seems too sticky and not crumbly enough, add a little more flour.)
Sprinkle your crumble mixture over the top off the fruit and apples. Spread evenly.
Bake for around 20 – 25 minutes, until the crumble topping begins to brown.
Take out of the oven and leave to stand for five minutes.
Serve with a dollop of Organic Natural Yogurt or Fresh Cream.
Hope you enjoy this lovely winter recipe as much as I do!
Love,
Emma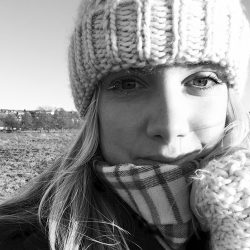 *All Photos my Own