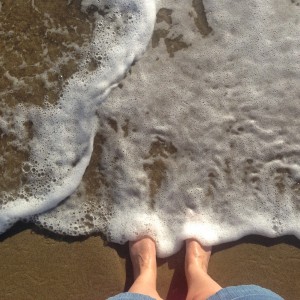 Seven Year Cycles
February 13, 2017 5:49 pm
Today is seven years exactly, to the day, that I relapsed and became sick again after believing I had made a full recovery from ME/CFS.  17 years in total I've been on this journey with chronic illness. It feels surreal even acknowledging that.
13th Feb 2010, was the day it all came crashing down. Again.
Although on reflection, I was actually slowly getting seriously unwell (but was in absolute denial) for a period of time before that day.
The last seven years have bought with them, the biggest challenges of my life so far without a doubt. But they have also taught me lessons I wouldn't have learned without the deeply painful experiences I have had. I feel like I am a completely different person to the 27 year old who stepped onto that cruise ship seven years ago today, blissfully unaware of what lay ahead.
This year, as this Anniversary comes round I feel reflective, but mostly I feel grateful for all that I have learned and the person I have become as a result of all of this. I want nothing more than to completely regain my health, and will continue to do what it takes to work towards that. But today I am acknowledging the progress I have made and the parts of myself that I have healed. The inner work I have been forced to do, has connected me back to myself and will change how I choose to live the rest of my life.
It is said, that there is a natural shift in energy every seven years. I am really feeling that this year. Rather than dwelling on the past (which is what I usually end up doing on these kinds of anniversaries) I feel more as if I am stepping into a new phase. Letting go and releasing the past as I do so.
I've linked in a blog post below that I wrote last year, about why I believe I got sick again and the life changing lessons I have learned as a result. It is the most viewed post on my site, and one that I thought those of you who are new here would appreciate me re posting. It speaks about 'that day' seven years ago when my world was completely turned upside down, and lots, lots more.
Ive popped a link to the post here for those of you who fancy a read… 
Emma x

*** If you would like to receive my latest blog posts straight into your inbox, just pop your email address in the subscription box (either in the sidebar or below depending which device you are on)
I'd love to have you as part of the Consciously Healthy Tribe! 
Emma x