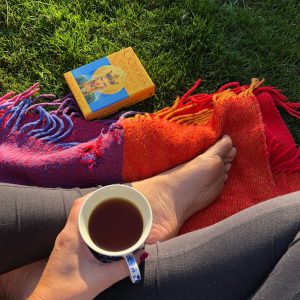 7 Rituals to Prepare You for the New Year
December 29, 2018 11:11 am
New year is a time of year that encourages us to reflect on things. It's a perfect opportunity to check in with your self and (in a gentle way) decide what you might like to bring in to your life in the coming year.
In this post I am going to share with you some of the rituals I love to do in the days leading up to a New Year. They are a beautiful way to connect you back to yourself after the busyness of Christmas and prepare you for the new year with freshness, clarity and renewed hope.
Set aside some time for yourself. Maybe light a candle, sit by a window, play some gentle music. Whatever feels right for you. Get a pen and some paper. Place your hand on your heart and take three slow, breaths. Enjoy the following gentle exercises and rituals to prepare you for a beautiful year ahead…
1.  Write down 5 Things that you have Learned in 2018.
This could be anything, from life lessons, to something more measurable like a new hobby or skill. Reflect on the things you have learned in 2018 and let yourself write whatever words want to come. Take your time to sit quietly as you do this. An example is 'I have learned to be kinder to myself during 2018. I now know what it means to treat myself with love'
2.  Write down 5 Things you are Grateful For from 2018.
Like the above exercise, allow yourself to quietly reflect and then write down Five things you are grateful for that happened in 2018. It could be a precious, happy moment or something bigger. There are no right or wrongs when doing this. Gratitude is a beautiful practise that raises your vibration, helps you to feel good and allows you to see that even if you have had a tough time, there are always little lovely things to be grateful for.
3.  Write down 5 Things you would love to bring into your life in 2019.
This one is preparing you for the beautiful fresh new year ahead. Take a moment to connect to your heart, and ask yourself what you would love to bring into your life in 2019. Set your intentions. Intentions feel better than 'goals' to me, they have a more gentle energy but are just as powerful. When setting intentions, we don't need to be concerned with how we are going to get them, just allow your mind to freely create what you would love to have in your life. Write it down. If you could be, do or have anything this year, what would it be? The first step to manifesting things, is to visualise it, and write it down.
If dreaming big feels too much, then write down five more tangible things that you would like to bring into your life in 2019. For me personally, I have some bigger things and some smaller things too. For example, I'd love to publish my first book in 2019 (big thing) but I'd also love to bring more of a structure into my weeks (smaller thing)
4.  Write down 5 things you Promise Yourself in 2019
I love this one. Be a friend to yourself, and as you step into that role, what do you promise yourself in this coming year ahead?
Examples could be 'This year I promise to listen to my body with love' or 'This year I promise to do some gentle Yoga each day' or 'This year I promise to be kinder to myself.' Let your pen scribble away and write down whatever feels nurturing and right for you.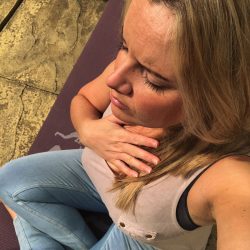 5.  Gratitude Jar Ritual
I've mentioned the Gratitude Jar Ritual here before. Starting a Gratitude Jar, is something I do each year for myself. I get an empty jar and tie a bow round it, then place it on my kitchen windowsill.
Each day I write little notes of gratitude and pop them in the jar. They can be small things, such as, 'I am grateful that today I got to sit in the warm sunshine'. Or big things such as 'today I drove my car for the first time in 6 months!' Anything goes. Pop in happy memories, happy moments. Little milestones. I also like to pop other things in mine such as tickets from gigs or gift tags off a present I might have received. Its lovely to watch the jar fill up as the year goes on.
Then on New Years Eve, you can set aside some time to open up your gratitude notes. It is a truly lovely thing to do for yourself, and also a nice reminder of happy moments from the year gone by too.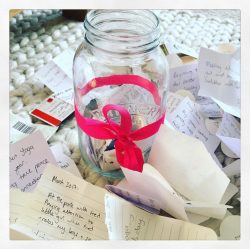 6.  Cleanse your Home and Space
Now is a lovely time of year to clear out your home and have a bit of a de clutter. Letting go of the old and making way for the new. Being realistic, it's now only a few days before new year so a lot of us (me included) won't have the time or energy to do a huge sort out or clean up immediately. But we can make a start and take this intention for our homes into January. All of the piles of bits and pieces that need sorting, or the messy kitchen drawer (cue to myself here!) can be cleared out ready for the year ahead.
Another thing thats nice on New Years Eve itself is burning some Sage, Palo Santo or Incense known to clear the energy around you. This year I have some beautiful Palo Santo that my cousin chose for me that I shall be smudging (burning) around my home on New Years Eve.
If you don't have this, you can burn peppermint or lemon oil in an oil burner/diffuser. Or just open your doors and windows wide for a little while to let the fresh air swirl around and cleanse your space of old stagnant energy.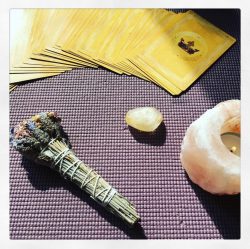 7.  New Years Eve Meditation.
On New Years Eve, set aside some time to Meditate. Place your hand on your heart, and take three slow, soothing breaths. Allow your mind to still as you focus calmly on your breathing. Let thoughts come…and go…. not expecting total silence in your mind, but just softening. Noticing.
After a few minutes, whenever you feel ready, begin to visualise yourself a year from now, how you would love to be. See yourself perhaps with a light or colour around you. Healing. Calm. Relaxed. Maybe doing something you would love to do. Let this meditation be yours.
End by sending yourself love. Feel your heart connection. Soften towards yourself. Be Still.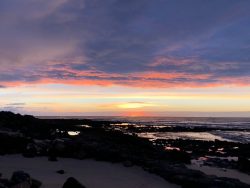 These are just some of the things I like to do when it is New Year. It goes without saying, play around with what feels good to you and create your own little rituals too. Let me know how you get on with the ones I have suggested that might be new to you. I'd also love to hear your own rituals for New Year. Drop me a message in the comments section below if you would like to share them.
I'd like to take a little moment before I sign off to Thank you all for your continued support with the Blog and my social media Pages. I feel so blessed to have such lovely people here and to be able to share my journey and thoughts in these pages with you all. You are so appreciated.
Wishing all of you a peaceful, happy, healthy New Year.
Lots of love, 
Emma x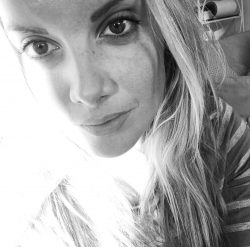 You can also connect with me on Facebook and Instagram. 
---
Would you like to be the first to hear about brand new Consciously Healthy blog posts? 
If you would enjoy having new posts sent directly to you, just pop your email address into the subscription box ~ you'll find it either below this message or in the sidebar depending what device you are using.  
New blog posts are sent out every couple of weeks or so and it goes without saying, your email address won't be shared with any other parties.
I'd love to have you as part of the Consciously Healthy Tribe!
Important note to new subscribers
Make sure you look our for your welcome email. Some people find it sneaks into their junk folder, so just keep an eye out and mark Consciously Healthy as a safe contact if this happens so you can continue to receive future posts to your inbox. 
---
Disclaimer: This Website and all the information which it contains is based on my own personal experience and health journey which I am sharing for educational and informational purposes only. Please consult your own doctor or healthcare provider to determine the best course of treatment for you.
Tags:
empowerment
,
gratitude
,
healing
,
intentions
,
journalling
,
meditation
,
new year
,
rituals
,
self-love
,
writing
Categorised in: Healing resources, Insightful inspirations, This week I'm really loving...